Please join your Mandarin team for a Free Webinar. Back to school procedures
Learn more about Back to school procedures
Partnership with TABvue
Mandarin is pleased to announce a new partnership with TABvue an online content platform with over 3,000 titles (and growing), curated specifically for grades K-8.

Curated, Affordable, Relevant Content for Patrons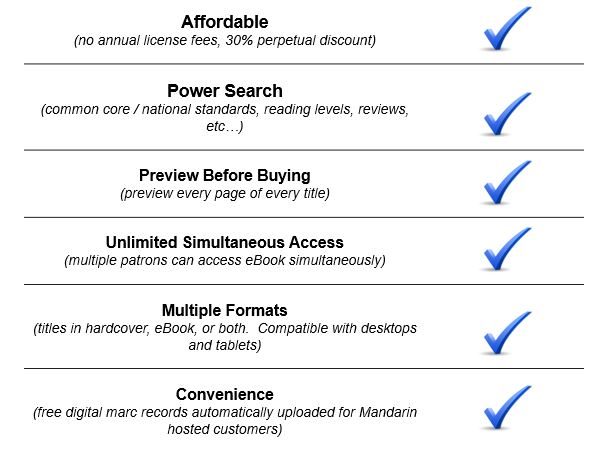 A POWERFUL, CUSTOMIZABLE INTEGRATED LIBRARY SYSTEM
MANDARIN CMS
Integrates the robust Mandarin ILS into a powerful content management system for your library's website.
MANDARIN HOSTING
Hosting options to complement your automation solutions.
MANDARIN OASIS
Centralized, web-based library automation software management
New version 2.9.3 is available now
The latest version of Mandarin Oasis and WebOPAC includes several new features.
MANDARIN M3
An affordable, powerful, exceptional library automation solutions.
New version 1.7 SP5h is available NOW!
WHY MANDARIN?
MANDARIN'S NEW KIDS OPAC
Mandarin's new kids OPAC makes it fun for young readers to search a library's collection! Children can choose from four themes by toggling among them.
ABOUT US
Serving Libraries since 1986
Focused exclusively on Library automation, services and supplies
Affordable
Choice of systems
Cloud hosting
Web based
Windows/ Web OPAC
Renowned customer service and 24/7/365 tech support
Onsite and remote training always budget friendly
Optional modules, including authority control, Z39.50 server and Syndetics Solutions
Business partnerships
(Bowker) Syndetics
Mitinet
Marcive
Worth data
And much more….
Hardware and turnkey systems
Data conversion from any system
MANDARIN PRODUCTS CATALOG
MANDARIN NEWS
Impressions June 2014

Read More